About Us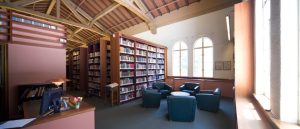 The Royce Reading Room (RRR) houses over 35,000 volumes on open shelves with an emphasis on the Humanities. The mission of the RRR is to provide comprehensive research and reference materials in language and literature for all affiliated departments and centers. The interdisciplinary research needs of students are supported by a comprehensive collec­tion of materials on the humanities, history, politics, philosophy, religion, cultural studies, and art.
Due to physical space limitations, the RRR collection policy must be highly selective. Our collection specifically supports the research interests of affiliated faculty and graduate students. In general, priority is given to primary authors' works from the medieval period to the present in their original languages. Resources on literary texts and criticism, and literary theory and history, can be found in English as well.
The Reading Room's collections have been significantly bolstered by the generous donations of prominent professors over the years. Such origins for many of our books attest to the high level of resources we can provide.
Asian Languages
The Asian Languages and Literature collection consists of books and periodicals in Chinese, Japanese, Korean, Mongolian, Tibetan, and languages of the Indian subcontinent. Topics include classical and modern literature, art history, history, Buddhism, philosophy, and religion.
French
The French collection focuses on French and Francophone authors and encompasses a rich selection of French literature from the medieval period to the 21st century, as well as more recent works by Francophone authors. Supplementary subjects include comparative literature, women's studies, and cinema. The collection of works on philosophy and literary and critical theory is strong and sought after by many graduate students.
German
The Germanic Language and Literature collection, the largest collection in the room, consists mainly of works of the German-speaking peoples, but also includes works in Dutch, Flemish, and Afrikaans. The German collection is also of great interest to faculty and students working in comparative literature, and Western European, African, and Jewish studies.
Italian
The Italian collection's development policy is limited geographically to works from Italy. The Italian collection has strong coverage of the Medieval and Renaissance periods. This includes a relatively broad collection of Dante, Petrarch and Boccaccio. In the past few years, the collection's development focus has shifted to more modern interests including works by women writers and contemporary literature
Scandinavian Languages
The Scandinavian collection includes books on literature, linguistics, folklore, mythology, and history in Danish, Faroese, Finnish, Icelandic, Norwegian, and Swedish. The collection also includes works in Old Norse/Old Icelandic.
CMRS Center for Early Global Studies
A final section of the collection is devoted to the scholarship of the Medieval and Renaissance eras. This enables scholars to access material on literature, art, history, music, and religion of European and Mediterranean civilizations of those eras. In support of the newly-expanded global focus of CMRS-CEGS, many new additions to this collection will broaden the geographic scope to include materials on the Medieval and Renaissance periods in Africa, Asia, and the Americas.