Room Details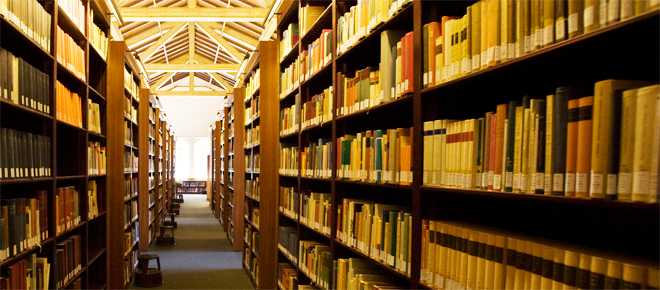 Welcome to the UCLA Royce Reading Room (RRR), located in Room 250 on the second floor of Royce Hall.  Founded in 1997, the Reading Room features elegant Romanesue style design, and modern furnishings.  The room provides a unique research and study space to support affiliated scholars and students.
About the Room
The front foyer offers a comfortable and quiet seating area for reading and wireless internet access. The computing area contains two public-use computers. The main room, divided by the book stacks, provides several private study carrels and large compartments. Study areas are beautifully furnished with traditional library tables, which are equipped with laptop ports for power and wired internet. Large windows provide fresh air, and plenty of natural light to support the non-glare table lamps. Wireless internet access is available throughout the space.
Our Collection
The Royce Reading Room (RRR) houses over 35,000 volumes on open shelves with an emphasis on the Humanities. The mission of the RRR is to provide comprehensive research and reference materials on language and literature for all affiliated departments and centers. The interdisciplinary research needs of students are supported by a comprehensive collection of materials on the humanities, history, politics, philosophy, religion, cultural studies, and art.
Collection development for the RRR is funded through the University, as well as through generous donations from departments and private donors.
The Purpose of RRR
The Royce Reading Room supports the teaching and research programs  of the Department of Asian Languages and Cultures (ALC), with separate sections devoted to Chinese, Japanese, and Korean, and a section on Asian philosophy and religion; the Department of European Languages and Transcultural Studies (ELTS), with separate sections housing collections in French and Francophone studies, Germanic languages, Italian, and Scandinavian languages; the CMRS Center for Early Global Studies; and the Center for Seventeenth and Eighteenth Century Studies.
In the interest of better assisting users with their research objectives, several future projects are in the works, including development of a film collection for all departments, and establishing a course reserves system.